Traffic Reports England
England Traffic News. Our England traffic reports section is dedicated to the latest traffic reports and traffic updates for England.
In adidtion to UK Traffic News.co.uk we have now launched our website dedicated to Traffic News England!
The aim is simple to help our users avoid traffic jams in England easily and quickly.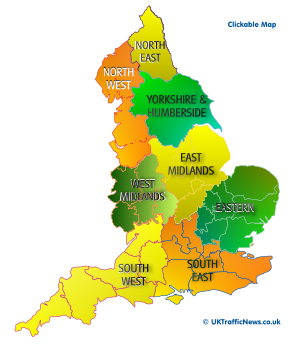 UK Traffic News features traffic news, traffic updates and traffic reports from the main roads and motorways and "A" roads around England.
Latest England Traffic Reports and England Traffic Updates
Below are some of the the latest up to the minute traffic reports and traffic news for England. You can find ALL current traffic news for England, accidents and roadworks using the search facilty to the right.
Use the links above to view dedicated pages with all the latest news from other motorways and regions. Please allow a few seconds for the latest news and updates for England to load.


About the England Region and Roads around England
England consists of the counties of all the counties in England.
Some of the primary towns in England include, London, Manchester. Liverpool, Birmingham, Leeds, Plymouth, Norwich, Cambridge, Peterborough, Ipswich, and Chelmsford.
UK Traffic News.... Bringing you the latest England traffic news, traffic reports and traffic updates for England.
Thank you for using UK Traffic News please come back soon...
England Traffic News & Traffic Updates for England
Traffic Search Facility
Search for all England traffic news and traffic reports using the search box above.
Use keyword specific terms for England such as "M11 northbound" or "M25 westbound", A1(M). If you are looking for traffic reports for particular road in eastern England type the name of the road e.g "A1", A10, A14, A47.
Give it a try easy to find traffic reports and traffic news for the M4.


We feature the latest Eastern England traffic news to help you avoid traffic jams in the east, delays and accidents or hold-ups. Saving fuel, stress and time for your journey around East Anglain and eastern England.
The aim of our Eastern England traffic news page is to bring you quicky and easily the latest traffic reports for the East.