M6 Motorway
M6 Motorway News and M6 information.
Just below are a few of the latest traffic reports for the M6.
See more of the latest M6 traffic reports and traffic updates.
Information About the M6 Motorway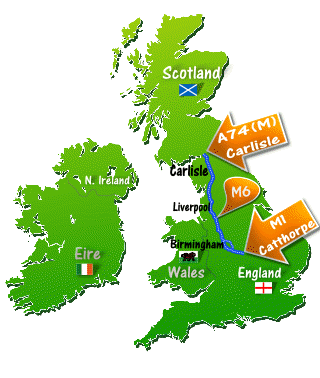 How long is the M6 motorway?
The M6 motorway is 226.7 miles (364.8 km) long and runs up straight up a large section of England and Scotland.
Where does the M6 go?
The M6 motorway runs from its southern end in Catthorpe England to its northern end in Gretna Scotland.
What are the main towns or main destinations off the M6?
M6 Primary destinations include Catthorpe, Rugby, Coventry, Nuneaton, Birmingham, Walsall, Wolverhampton, Stafford, Stoke-on-Trent, Warrington, St Helens, Manchester, Liverpool, Preston,Lancaster, Kendal, Penrith, Carlisle, Gretna.
when was the M6 motorway built?
The M6 was constructed between 1958 and 2008. Britain's first Toll paying motorway, the Toll (fee charging) section runs around Birmingham which was opened in December 2003.
Was the M6 the first motorway built in the UK?
The actual first motorway built was the M1 but the first UK road to be built to motorway standard was the Preston Bypass which later became part of the M6.
Or use the "traffic search" facility to search all the latest traffic news updates.


For more M6 motorway traffic reports see the M6 traffic news page.
Our aim is simple to help motorists find information about the M6 motorway easily and quickly.
Search all the UK latest traffic news updates.
M6 Traffic News. UK Traffic News page dedicated to M6 traffic news and M6 traffic reports, M6 traffic updates. News about M6 Motorway delays, roadworks and accidents.
Latest M6 Motorway Traffic News & M6 Traffic Reports

The M6 is a busy commuter motorway, holiday maker motorway and carries a lot of haulage between Scotland in the north and england.
Particulary busy spots include Birmingham.
See our dedicated M6 traffic news page for more M6 traffic updates.
M6 Motorway Traffic News Club
If you are a regular M6 motorway user, a commuter, lorry or van driver that regularly

uses the M6 motorway UK Traffic News are introducing the Traffic News Club where members can share news and updates about the traffic on the routes they regularly use.
If you are interested in becoming a Traffic News Club M6 member link up on Twitter or give us a "like" on Facebook.
UK Traffic News
Bringing the latest traffic news for the M6. Latest M6 traffic reports, latest M6 traffic updates
M5 traffic news is regularly updated check back frequently for the latest M6 traffic information.