Falling Rocks Road Sign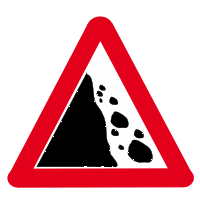 This "Warning Sign" is one of the less frequent.
It means the road ahead either has or is a risk area for potentially falling rocks.
Well the rule of thumb to be extra observant of obstacles in the road in the form of rocks or fallen cliffs or verges.
Warning signs are a red triangle road sign!
Warning Road Sign for Falling Rocks or Fallen Rocks
Why is it a warning sign?
You will be going along a stretch of road that either has fallen rocks than may be blocking the road, or on the road or an area susceptible to falling rocks.
Why is this a warning? Whether the rocks are large boulders blocking the road or much smaller rocks fallen on the road it would be very dangerous. Be aware that the rocks could be either large or small. Larger rocks should be obvious except perhaps after dark but smaller rocks could puncher your tyres and lead to an accident.
Hence it is a "warning sign" not a general information sign!
Care and extra observation required.
The "Road Signs" section on UK Traffic News is part of our Driving Information section.
Learner Drivers
Find out how to "How to book your driving theory test online".
The link you need and information about what you will need and a short video telling you exactly what to do and how to do it. Then there is our "How to book your practical driving test online" help page or the "How to change your practical driving test date" page.
Latest Traffic News
Below is a summary of some of the latest traffic news and traffic reports received. Please allow a few seconds for the traffic news to load. These are some of the latest traffic reports from around the UK.
For all the latest traffic reports use the traffic search facility at the top of the column to the right.


UK Traffic News.... Making it easy to find the latest traffic news in the UK!
Thanks for visiting come back soon...
Safe Driving Information
The aim of the UK Traffic News is to link those looking for information about traffic delays, traffic incidents, roadworks, jams and holdups with the latest traffic news.
Traffic Search Facility

We aim to do this to help make your journeys easier, less stressful, quicker, cheaper and less polluting to the environment.