Uneven Road Sign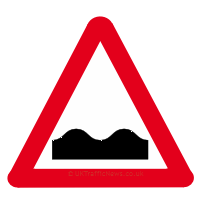 This "Warning Sign" is one of the less frequent road signs.
It means a Uneven road ahead.
Well the rule of thumb is to be prepared for a bumpy or uneven road and to reduce speed accordingly.
Warning signs are a red triangle!
Uneven Road Surface Warning Road Sign
Why is the uneven road surface sign a warning sign?
You will be going over an uneven road surface or bumpy road surface.
Not only could an uneven road surface be bad for your suspension and vehicle if you drive over it too fast, but there is also the risk of losing control of your car or vehicle.
A bumpy ride might not be very pleasant particularly if it took you by surprise which could affect your driving.
Your brakes may not work as efficiently as normal on an uneven or bumpy road surface due to a lack of firm consistent grip between the road surface and your tyres and therefore may adversely affect the speed at which you could stop when you break.
So you should be prepared to slow down.
Hence it is a "warning sign" not a general information sign!
Care and extra observation required.
The "Road Signs" section on UK Traffic News is part of our Driving Information section.
Learner Drivers
Find out how to "How to book your driving theory test online".
The link you need and information about what you will need and a short video telling you exactly what to do and how to do it. Then there is our "How to book your practical driving test online" help page or the "How to change your practical driving test date" page.
Latest Traffic News
Below is a summary of some of the latest traffic news and traffic reports received. Please allow a few seconds for the traffic news to load. These are some of the latest traffic reports from around the UK.
For all the latest traffic reports use the traffic search facility at the top of the column to the right.


UK Traffic News.... Making it easy to find the latest traffic news in the UK!
Thanks for visiting come back soon...
Safe Driving Information
The aim of the UK Traffic News is to link those looking for information about traffic delays, traffic incidents, roadworks, jams and holdups with the latest traffic news.
Traffic Search Facility

We aim to do this to help make your journeys easier, less stressful, quicker, cheaper and less polluting to the environment.