Google, Bing or Yahoo for Traffic News?
Why we currently recommend Bing.com and Yahoo.co.uk for traffic news information?
Which search engines are best for finding traffic news and why we think Google lost a bit of its magic?
Bing.com and Yahoo.co.uk currently seem to be the best search engines to use for finding traffic news, see below for our research and reasons.
Plus test it for yourself with the the "Bing it On" challenge!
Until Early 2013 Google Has Ruled The Web But Is That Changing?
A year ago if you asked people to name a search engine or place to search the web many would say "Google" as their first answer. But evidence we have uncovered shows that this may be changing and that Google is becoming less popular and losing its magic touch.
Bad press about the amount of tax Google pays in the UK, poorly planned and executed changes to its search algorithm, falls in its advertising revenues, competition from Facebook, Twitter and believe it or not Microsoft have all no doubt contributed to Google's popularity change with web users, web publishers and web developers.
Even senior staff who have left Google have shared their views about Google losing its MoJo in preference for more innovatation from Microsoft and other big tech companies.
Google has been changing its search engine algorithim quite dramatically over the last year or so. UK Traffic News, and many other websites, have reported big changes in the search position, where in the list, the website or individual pages appear in Google searches for relevant "keywords".
Search engines such as Google, Bing and Yahoo actually have the very difficult job in trying to give web searchers the best search results based on the words they use in their search. To do this search engines such Bing, Yahoo and Google have to make judgments about which website to show above or below others in the search results. This is sometimes referred to as how search engines "rank" individual websites, or the individual pages on websites.
We, and it would seem a growing number of people, think Google is not necessarily giving the best search results. Hence we recommend you take the "Bing It On" challenge to judge for yourself.
As far as searches for traffic news related information is concerned Google now seem to be preferring local radio station or local news paper websites for example which often do not feature either up to date traffic news, limited traffic news or only regional news for their station which is also often out of date.
Google seems to have shifted its preference even more than before towards for government websites i.e. those that end ".gov" or ".gov.uk" which Google has always preferenced including the Highways Agency site. Google updates this year seem to have shifted search results dramatically, not always to the most relevant or up to date search results in a growing number of cases, and not just affecting "traffic news" searches but many other sectors we have seen.
Lots of smaller websites are now struggling in Google searches as a result. Is it all bad news for the smaller websites many of whom put a huge amount of time, effort and resources into their websites in the same way UK Traffic News does? We actually think there is some good news and explain why.
That is a challenge, but we love a challenge!
The UK Traffic News website has had hundreds and hundreds of hours invested in it with the primary aim of featuring the latest traffic news from around the UK and specifically designed to make the traffic news featured easy to read, clear and easy to search and as up to date as possible.
We are constantly making improvements to the UK Traffic News website and looking at ways to make it easier, clearer and more user friendly for our thousands of weekly users to find the latest up to date traffic news for the roads and regions relevant to them.
Are the recent changes by Google all bad news for smaller websites or is there some good news in this update?
Some background...
Six Month Visitor Stats From May 2012 to October 2012
Since we launched in 2009 if you searched for "UK Traffic News" you would normally have found us around 7th in the search results in Google, at least up to around March 2013.
In the six months from May 2012 to October 2012 UK Traffic News had approximately 75,700 visitors or users of UK Traffic News and of those approximately 79.2% or 60,000 visitors came via Google searches, 10.7% or 8,000 from Bing.com and 8.7% or 6,500 from Yahoo.co.uk.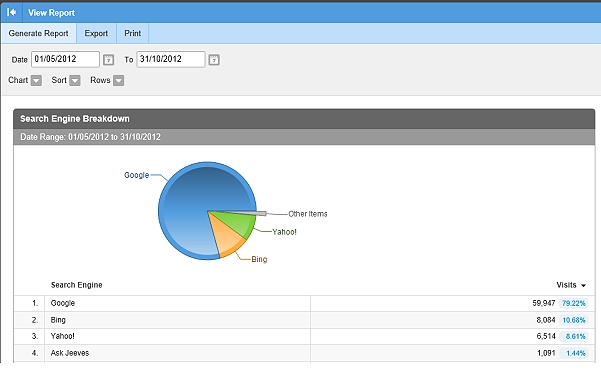 Six Month Visitor Stats from May 2013 to October 2013
If we look at the comparable results in 2013 if you search for "UK Traffic News" in Google you will find us way down on page 5, 6 or 7 somewhere between 50th and 70th in the Google search results, that is a massive drop, which came as a sudden unexpected shock after all the hard work and quite a (nasty) surprise.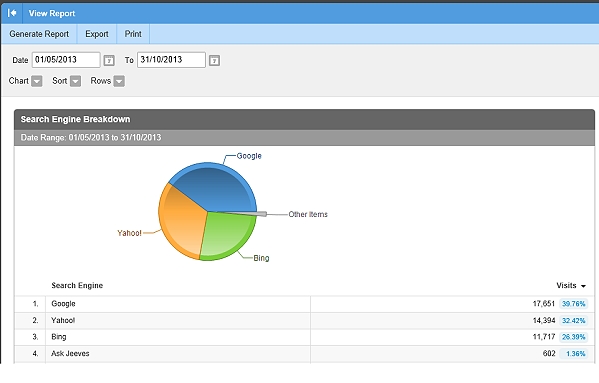 Compare this to Bing or Yahoo and you will still find us usually in the top 5th or 6th search results and lots of our individual pages do well in Bing and Yahoo searches or better.
In the six months from May 2013 to October 2013 UK Traffic News had approximately 44,400 visitors or users and of those approximately 39.8% or 17,700 visitors came via Google, 32.4% or 13,400 from Yahoo and 26.4% or 11,700 from Bing.
People Swapping From Google to Bing.com and Yahoo.co.uk?
So overall website visitors during the two periods above has dropped by around 31,300 or 41.3% on a period to period comparison.
The number of visitors from Google searches has dropped by 42,300, or 70.5%.
However the good news is that the number of visitors from Yahoo and Bing are both up on last year.
This suggests that more people are using, or swapping to, Bing or Yahoo to do their internet searches instead of Google! Just maybe this is the beginning of a trend.
This would be very good news if this trend continues for variety reasons if not simply to ensure that one company, Google historically, does not become too powerful and all dictating as far as the web is concerned.
Another indicator that Google has lost a bit (some would say a lot) of its magic are Google's earnings from web advertising revenues which have fallen dramatically during 2013, a fall of nearly 30% as demontrated by the charts of Google revenues (opens a new window).
Why This is Good News?
In the case of Yahoo we had an increase of around 7,900 visitors from Yahoo searches or a 120% increase compared to last year.
In the case of Bing we had an increase of 3,600 visitors from Bing searches or a Bing increase of 45%.
So visitors to UK Traffic News via Bing.com or Yahoo.co.uk between 2012 and 2013 has increased by around 165%.
So the trend, certainly as far as UK Traffic News is concerned, is that more people seem to be using Bing and Yahoo to search for the traffic news we feature, and less are using Google. Google seems to have lost a bit of its magic.
We think that is very good news!
Why is this good news? Because more and better competition by Bing and Yahoo means that Google will not just keep becoming more and more powerful on the web and that better competition and variety in the search engine sector will help keep the web more interesting, healthy and fairer for both website publishers and web users in the long term.
Google's previous dominance of the online advertising world meant little choice for both web advertisers and web publishers alike until fairly recently. However Google's dramatic fall in advertising revenues year on year of around 30% in 2013 is perhaps a sign that Google is not providing what web users, advertisers, or publishers want. Particularly now in the face to very stiff competition not only from Bing and Yahoo, but also the likes for Facebook and Twitter.
The "Bing It On" challenge
Bing have a useful tool to make some comparisons to Google search results compared to Bing search results on the www.BingItOn.com website.
We have tried it on a number of searches about a variety of topics and most of the searches we tried 3/5ths of the results we selected as the best search result were Bing searches and 2/5ths Google.
So the quality gap, in our experience, is narrowing and both Bing and Yahoo are getting a lot better as a search engines in providing quality, high relevance search results. Alternatively is could be people think that Google has lost its magic and got worse, but try it for yourself and see what you think. We are certainly using Bing and Yahoo ourselves a lot more than we have in the past.
We were not just testing the "Bing it On" challenge on "traffic news" type searches but a variety of topics and currently try it out on various subjects a few times a week to compare search results and find the best ones we are looking for. We recommend you keep an open mind and try Bing and Yahoo too if you don't already. Things are changing in the world of searching the web!
So What Has Google Done To Change its Search Results So Dramatically?
Google certainly seems to be placing a greater preference for bigger websites i.e. those with thousands of pages (radio stations, government websites, big commercial companies for example) and websites that are more likely to be able to obtain or attract what Google would say are "high grade links" pointing to their website. Google views high grade links as being from sites such as university or Government websites. This is very incestuous as smaller sites will always struggle to ever obtain any links from such websites which are far more likely to link to other big websites.
The whole web link thing for search engine rankings which Google places a high value on, is very incestious and fake, frankly. Don't believe us? Try getting a website listed on Dmoz.org as just one example which is another link Google will upgrade your "ranking" if you are in the directory. However Dmoz.org is very outdated and open to lots of abuse. Many, if not most, of the volunteer editors of Dmoz.org are web publishers themselves and they approve or keep out new Dmoz listings yet they have a vested interest in their chosen sector to keep competitor websites out of Dmoz.org. Google playing fair? Hardly.
Also Google supposedly does not like "paid links" but a directory listing in Yahoo's directory which costs around $299 (USD) is reported to help boost a websites Google ranking? If that isn't a paid link what is? Again big websites with much bigger budgets can do that easily but smaller sites? We think that overall the way that Google is going is big and bigger websites. In turn that means that smaller web publishers will find it much harder to survive and succeed on the web.
The websites in the top 50 or so listings above us on "UK Traffic News" at present (as at November 2013) are not necessarily those with the most relevant or up to date traffic information, certainly when it comes to traffic news and updates, except in perhaps a narrow field, such as their local area.
We currently recommend Bing or Yahoo for lots of web search and especially UK traffic news and updates. At least try Bing or Yahoo and don't just limit your search to using Google.
Ranking Change Possibly To Do With The Google "Exact Domain Match" Algorithm Update?
One of the changes Google as implemented in its search algorithm is an "Exact Match Domain" or EMD penalty and the "Partial Match Domain" or PMD penalty.
"UK Traffic News" is our central "brand" and the domain name "does what it says on the tin" being our main focus of showing current up to date UK Traffic News. Other sections of the UK Traffic News website are about other useful information for motorists such as Road Tax rates, insurance information, and a growing road signs section for example.
Our primary focus however is UK Traffic News and to simply feature easy to read, easy to search, traffic news from around the UK so you can find your local traffic news for the roads or regions you use.
It would seem that EMD may well be part of the reasons for UK Traffic News website dramatic drop in Google, at present. We have looked into other factors and this is the likely main reason, if not the only one! There are lots of web publishers complaining that EMD has adversely affected them in Google search results, but it is thought unlikely by most commentators that Google will reserve this change. However that decision we predict will only boost the popularlity of Bing and Yahoo as viable quality alternatives to Google's search results. Again Google seem to be targeting the EMD changes mainly at smaller or non Government websites according to our research.
A sudden drop like this can be extremely difficult or even devastating for some websites or smaller businesses. It can be extremely difficult and complex to try and work out why your website is rising or falling in search results.
Clearly we will be working to endeavour to get back up into the top 10 Google search results for "UK Traffic News" as we would like to feature equally in all search engines. In the meantime if you prefer Google as opposed to Bing or Yahoo you can find our website easily by either typing www.uktrafficnews.co.uk directly into your browser, or perhaps save us as a "favourite" in your browser for speed of access to our site or simply use Bing.com or Yahoo.co.uk to find us instead.
So What Is The Answer To Improving Google Ranking?
Ultimately the answer is likely to be to simply keep calm and just keep updating the UK Traffic News website, continue to strive to be the best traffic website on the web. To continue to improve and expand our content and relevance of our traffic and motoring information for all our users.
After all Google is not the be all an end all of the web and other search engines are now giving Google some great competition. What's to say Google won't dramatically shrink over the new few years and become far less of an influence on the web as whole? We think the indicators are already there to suggest a downward trend for Google itself and that the downward trend has already started in terms of both Google's earnings but also its popularity, certainly based on our own research, stats and information.
If you like what we are doing or interested in sharing your latest traffic news of your journeys to help others avoid the jams? Follow us on Twitter.com/UKTrafficNews or give us a "like" on Facebook. Thank you.